PURCHASE ORDER QUALITY CLAUSES - AEROSPACE
Rev. 4/11/22
When Aerospace requirements are called out, these Quality Clauses will apply to all suppliers that furnish product, material, processes, or product related services to Jerl Machine, Inc. as a contractual requirement regardless of Supplier's industry, regulatory accreditation, or certification status. And each Supplier shall be responsible for flowing these requirements to all suppliers of its supply chain.
Quality Clauses – Aerospace
1. SUPPLIER RESPONSIBILITY: It is the responsibility of the supplier to satisfy all requirements of the purchase order, including specification requirements, quality requirements, marking requirements, deliverable documentation requirements such as CoAs (Certificates of Analysis), C of C (Certificate of Conformance), MTRs (Material Test Reports), and packing lists.
2. CHANGES: Supplier shall not make any changes in materials, components, manufacturing process, or methods used in production of the goods covered by any applicable order from Jerl Machine, Inc. without written consent of buyer.
3. RAW MATERIAL SPECIFICATIONS: The current revision of any specifications, drawings, or other documents are applicable unless otherwise specified on the purchase order.
4. MATERIAL TRACEABILITY: Where specific material is specified for the order, material traceability shall be maintained through the entire process. Unless otherwise specified, material shall be legibly marked or stamped with the alloy type and heat/lot number.
5. COUNTERFEIT PARTS AND MATERIALS: To prevent and mitigate the risk of counterfeit parts and material being incorporated into products delivered to Jerl Machine, Inc., or drop shipped to our customers, all suppliers and their supply chain shall have in place a program to comply with the requirements of SAE AS6174 for all non-electronic product (e.g., raw material, mechanical assemblies).
6. SAMPLING: Where sampling is used to verify outgoing product, the sampling plan(s) shall be justified on the basis of recognized statistical principles and appropriate for use (i.e., matching the sampling plan to the criticality of the product and to the process capability). And shall be based on "Zero Acceptance Number Sampling Plans" (ISBN 0-87389-305-0), Fifth Edition, by Nicholas L. Squeglia. Published by the American Society for Quality.
7. CALIBRATION: Measuring equipment (e.g., Gages, Calipers, Micrometers, CMMs) used to confirm product or service compliance shall be metrologically traceable to the "International System of Units (SI)" through either a National Metrology Institute (e.g., NIST) or a commercial calibration laboratory holding a valid ANSI/NCSL Z540-1 ANSI/NCSL Z540.3 or ISO/IEC 17025 accreditation with a scope covering the metrological services sought.
8. NON-CONFORMING MATERIAL: Authority to ship non-conforming material must be obtained from Jerl Machine, Inc., with written consent of the buyer prior to shipment.
9. FOREIGN OBJECT DEBRIS: The supplier shall establish, implement, and maintain a Foreign Object Damage (FOD) Prevention Program to control and eliminate foreign object damage/debris (FOD) in accordance with SAE AS9146, or equivalent.
10. SHELF-LIFE ITEMS: When shipping material and/or components/products with an expiration period (i.e., shelf life), the material and/or components/products (e.g., adhesives, cements, chemicals, elastomeric seals, epoxies, gaskets, paints, rubber products and sealants) shall be marked with the expiration date and have at least 80% of shelf life remaining upon arrival at Jerl Machine, Inc., in order to be accepted, unless otherwise approved by Jerl Machine, Inc.
11. PRESERVATION, PACKAGING: Where not otherwise specified, all material / products shall be packaged and marked in accordance with the latest version of ASTM D3951, "Standard Practice for Commercial Packaging", or an equivalent documented and industry-accepted methodology, to protect the materials / product (e.g., from deterioration, corrosion, rust, or damage) during delivery / shipment from the supply source to the destination noted on the purchase order. Total weight shall be documented.
12. RECORDS: Unless otherwise specified, all records showing compliance to the specifications, purchase order, and third-party testing records are to remain on file for a minimum of seven years.
13. PAPERWORK / CERTIFICATIONS: Supplier shall provide a packing slip and/or Certificate of Conformance documenting the work performed and assuring material traceability. At a minimum, this documentation shall include:
• Supplier's name
• Supplier's address
• Jerl Machine, Inc's Purchase Order number
• Line-item number
• Quantity
• Part number and design revision level
• Lot, heat, batch, date code, and/or serial number (if applicable)
14. RIGHT OF ACCESS: Work under this purchase order is subject right of access by Jerl Machine, Inc., their customer and regulatory authorities to the applicable areas of facilities and to applicable documented information, at any level of the supply chain
15. AWARENESS: The supplier shall ensure that personnel are aware of:
• their contribution to product or service conformity.
• their contribution to product safety.
• the importance of ethical behavior.
Committed to excellence
Every step of the way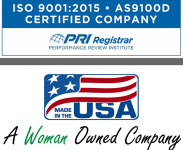 © Copyright 2022 Jerl Machine Inc.